Find out about our campsites with heated swimming pools
No more need to wait for July or August before going on holiday !
Our four- and five-star campsites have heated water-fun facilities featuring swimming pools you can use all season round. Outdoor or indoor pool ? The choice is yours! Swimming and diving fun for the whole family in water at 28°C! Even the most cold-sensitive will be free to enjoy a relaxing spot of swimming and bathing, no matter what the temperature outside.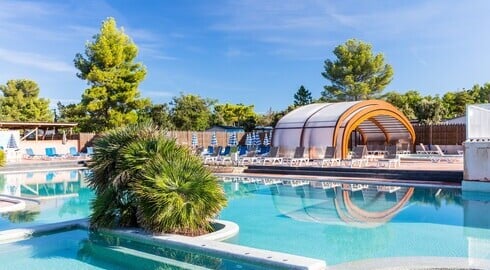 Heated outdoor pool
Take the plunge and dive into one of the many heated pools we have at numerous destinations in France and Europe. We've put together a selection of our best heated pools for young and old alike to enjoy!
Dive into the turquoise waters of our outdoor pools and swim and bathe out of season in water at just the right temperature. Treat yourself to a day of leisurely relaxation in water at 28°C, swimming lengths or having fun with the whole family after a day of sightseeing.
Everything's allowed in our open-air pools!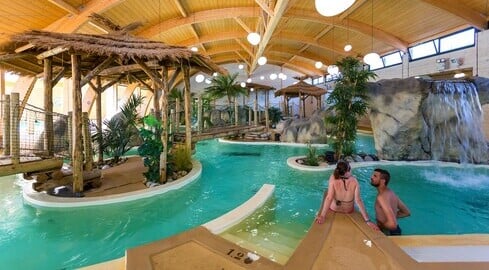 Heated indoor pool
No need to wait for the fine weather before booking your camping holiday!
Swim and bathe even out of season and no matter what the outside temperature at one of our three-, four- or five-star campsites. Spring or summer, by the sea or near the mountains, our campsites featuring heated indoor pools offer fun for the whole family, whatever the weather.
On your own, as a family, with friends… enjoy the pleasure and comfort of water at the ideal temperature. Guarantee a great all-round holiday experience for all by opting for a campsite with a heated indoor pool.
For the whole family…
Our swimming and water-fun facilities offer genuinely relaxing moments for the whole family, from the youngest to the oldest and from the sportiest to the more easy going and laid-back.
Looking to combine wellness with relaxation ? Treat yourself to a soothing, relaxing session in one of our jacuzzies or solariums or at one of our balneotherapy facilities. Or you can choose to use this precious time for a spot of keep fit by taking part in aqua aerobics sessions. Our various waterslides and waterpark facilities offer hours of solo or group fun for children and those looking for energetic thrills and spills. And finally, our paddling pools provide safe places for younger children and parents to spend quality time together enjoying the delights of the water.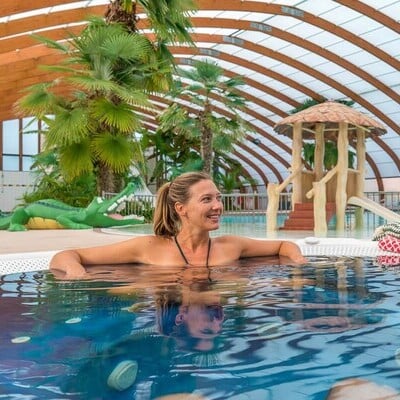 I don't need to wait for summer to go on holiday with the children any more. The campsite has a heated pool available from April onwards !